Understandably, our customers are often concerned about the correct way to go about marketing their software products. But while no magic recipe for success currently exists, in recent years, it has become increasingly clear that highly sought for solutions like Google Adwords and content marketing can only take you so far. Beyond there, one must think outside the box.
So for this article, we would like to highlight just one of the many ways that you can do this, by ramping up your marketing efforts through the engaging power of social influencers.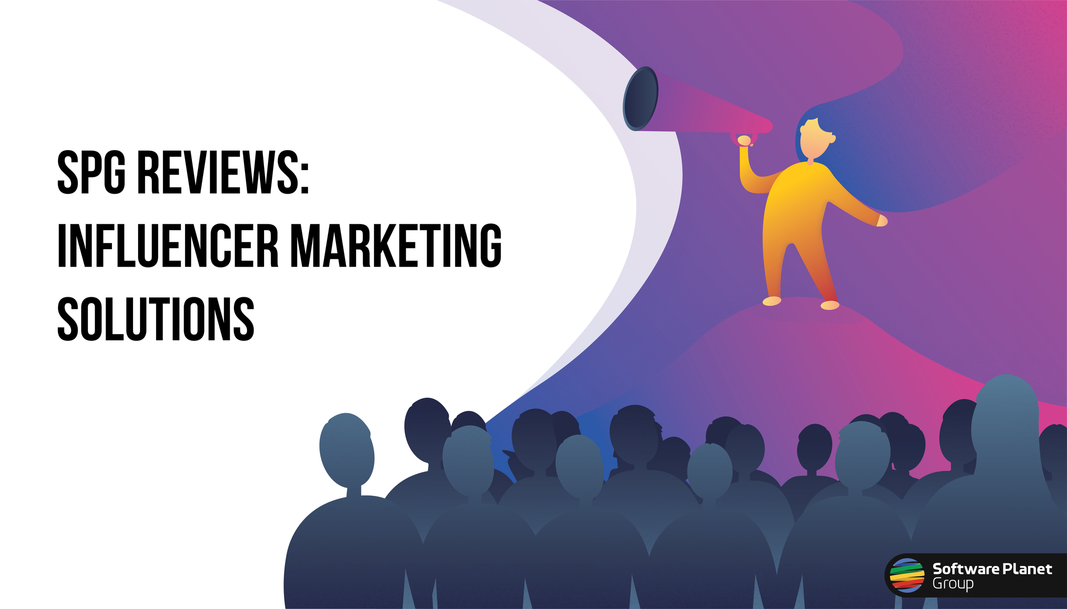 Influencers + Solutions Galore
After all, from Marcus Butler to Jenna Marbles, Tanya Burr to Pewdiepie, the internet is saturated with online trendsetters. Pair that with a whopping 92 percent of consumers now reporting that they are far more likely to trust recommendations made by their peers, and it's easy to see why this has quickly given rise to a cornucopia of marketing solutions.
The trouble is, of course, managing to sort through them all — which is why we've put together a quick overview of some of the very best offerings out there! So marketers and entrepreneurs, gather round.
1. Scrunch
Boasting the ability to search through a list of over 20 million top bloggers and social media profiles, Scrunch is a reliable and user-friendly option for startups and small businesses alike. The platform comes with a decent amount of filtering criteria and notably allows its users to annotate the profiles of content creators, so you can easily keep track of all your successful — and not so fortuitous — campaigns.
For all the work done on the influencer side of things, however, one possible downside is the meagre information about the audience one hopes to reach, forcing users to either fork out for the most expensive version, or conduct their research through other means.
Still, its pricing options are extremely attractive, starting for free at its most basic version, but also offering more robust options priced at $99 (£74) per month, or $299 (£225) a month for the so-called "Power" version.
2. Upfluence
In order to run a successful campaign, it is important not to get distracted by an influencer's number of followers, but to turn one's eyes instead to the golden ratio between followers and engagement. And clearly with this in mind, Upfluence shines.
With a massive database reaching over 1 million vetted influencers and a collective audience of over 82 billion, it is hardly surprising that Upfluence has worked for brands such as PayPal and Nescafe. The solution encapsulates a search engine, campaign manager and analytics monitoring tool, making it a true tour de force for the enterprise.
But for all its brilliance and state-of-the-art analytics, two things stand in the way of wider acceptance.
First, its prices are anything but alluring, ranging from $750 (£566) per month for startup companies to $3,500 (£2,642) a month for the enterprise. And secondly, there is a perceptible learning curve, as the sheer amount of features stuffed into the program will naturally demand a bit of training.
Nonetheless, if money is not an issue and you can afford to dedicate some time to online tutorials, Upfluence is without a doubt a worthy investment for your company.
3. Grapevine
Like the love child between Scrunch and Upfluence, Grapevine is both easy to use and affordable while never compromising on the importance of human vetting and in-depth analytics. Uniquely, however, the company also provide their own team of experts who can help you put together entire campaigns from start to finish.
But while they may have worked with leading brands such as L'Oréal and Coca-Cola, as far as influencers go, Grapevine does lag somewhat behind. Its commitment to so-called "full authentication" means the platform currently reaches only 150,000 influencers, across YouTube, Facebook and Instagram. That may be considered enough by many, but you should also bear in mind that Grapevine's content creators are primarily focused on beauty, fashion and lifestyle.
Its pricing model is also unique, offering different options catered to budgets ranging from $1,000 (£754) – over $10,000 (£7544).
4. Hypr
While its pitch as the world's "largest and smartest influencer search directory" may certainly be questionable, there is no denying that Hypr was a pioneer when it first launched in 2013. At the time, one would be hard-pressed to find influencer marketing software to begin with, let alone one with its own ambitious features.
As a result, Hypr has had plenty of time to polish its algorithms. In addition to being able to search through and filter a database of over 10 million bloggers, vloggers and instagrammers, the solution stands alone on this list for its ability to correctly identify duplicate audience members from within a pool of multiple influencers.
The snag, however, is that Hypr does not include a campaign manager. Furthermore, the solution is primarily focused on bigger companies and corporations, and they do not make their prices public. Still, you can register for a free trial here.
5. Revfluence
Last but not least is Revfluence — Upfluence, Revfluence, we know, we know! — a favourite among internet reviewers which boasts as its customers the likes of Walgreens and Calvin Klein.
The solution aims to be the "ultimate influencer platform for agencies," and with a recommendation engine pointing out similar content creators to ones you've already worked with, an impressive campaign manager with advanced features like performance spreadsheets and collaboration, and most importantly, no fees at all for any payments handled over the platform, they may have reached their goal.
Like Hypr, however, Revfluence also shies away from publishing its prices. Nonetheless, it operates on a SaaS model, charging a monthly subscription fee, plus a commission for every video created through the program's marketplace.
The Bottom Line
Though marketing software is always a challenge, at a time when 70 percent of teenagers claim to relate to YouTube vloggers even more than traditional celebrities, leveraging the power of influencers has become an effective strategy for mainly one reason — it works!
On these grounds, after carefully selecting your company's marketing solution, Software Planet suggest that you waste no time in establishing a connection with passionate content creators. Without a doubt, they will resonate with your target audience in ways you could only dream of.