Thursday, March 10. The Latest News in Ukraine Today:
In welcome news, according to the General Staff of the Armed Forces of Ukraine, the advance of the Russian army

has been halted in every direction

, though the Russians continue to hold

the settlements of Poliske, Kukhari, Borodyanka, Andriivka, Motizhyn, Gorenyichi, Bucha and Demidiv. 
The humanitarian situation in Mariupol remains catastrophic, as multiple reports are still suggesting that Russian forces in Ukraine continue to block supplies into the city.
Today's meeting in Turkey did not yield any positive results. According to Ukraine's Foreign Minister Dmytro Kuleba, Russia not only did not agree to a ceasefire but did not commit to providing humanitarian corridors either. Reportedly, during the meeting, Ukraine sought to establish a 24-hour-long ceasefire to address the most urgent issues and unblock the so-called "green corridors."
Moscow continues to wreak havoc upon the people of Ukraine's critical infrastructure. Earlier today,

the country's gas transmission operator made public

that Russian soldiers are attempting to penetrate the company's facilities around Kharkiv and Luhansk. This poses yet another environmental threat to the continent and could potentially have a significant impact on natural gas transportation to Europe.
Despite the atrocities of the war in Ukraine, the country continues to take the high road publicly. Today, the mayor of Mykolaiv, Vitalii Kim, has offered to provide a "humanitarian corridor" to Russian soldiers who are ready to surrender. This would exclude both rocket launcher operators and artillerymen, however. Kim stated that after what was being done to Mariupol, those two groups would have only two options: to flee or die on Ukrainian soil.
In more positive news,

a new YouTube video

has revealed that the Russian column near the city of Brovary sustained heavy, unexpected losses after an effective Ukrainian ambush.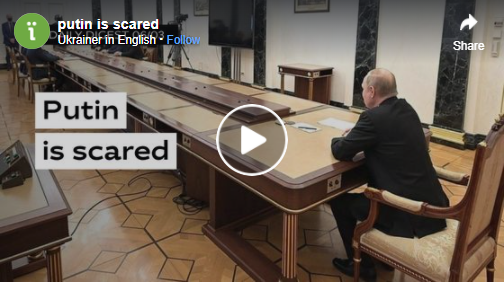 Why is Russia attacking Ukraine?

Putin claims that this "special operation" was needed to protect Ukraine's Russian-speaking population. But what language do people speak in Ukraine anyway? In actuality, while Russian is spoken by approximately a third of the Ukrainian people, it is Ukrainian that firmly prevails with ⅔ of the country being native speakers. Furthermore, since these latest attacks, many Russian speakers have switched exclusively to Ukrainian.

 

Stay tuned for more of the latest Ukraine news!