Wednesday, March 9. The Latest News in Ukraine Today:
The list of US and EU businesses boycotting Russia is also continuing to grow. McDonald's, KFC and Coca-Cola are the latest companies to pledge their support, as public pressure reaches fever pitch.
The International scientific community is appealing to academics in Russia to pile on pressure and stop Putin's war. The

responses some have already received

, however, have been anything but encouraging.
Associate Professor of Finance Tatyana Deryugina, the scholar at the University of Illinois Urbana-Champaign who began the aforementioned petition, has been shocked to see Russia's propaganda machine in practice. In her personal blog, the professor has shared an example of how Putin's regime is

aiming to brainwash the country's children

.
Two of the most talked about topics in recent days have been the establishment of humanitarian corridors and protecting the people of Ukraine by sheltering the sky over Ukrainian cities — to prevent air strikes on civilian infrastructure. Some progress has been made in both regards. Today is the second day of evacuation, with more corridors being established across the country,

including one in the city of Enerhodar

. There is also hope that the US and Poland will be providing aeroplanes to Ukraine.
As the General Staff of the Armed Forces of Ukraine reports, in Kherson, the Russian occupants "are trying to impose an administrative police regime" and

have detained more than 400 Ukrainian citizens

for simply protesting against the Russian Ukraine invasion.
The Chernobyl nuclear power plant has now suffered a complete blackout, as Russian troops in Ukraine

have disconnected the plant from the power grid

. Ukraine is appealing for an immediate ceasefire to allow the maintenance brigade to come in and prevent a devastating radiation leak. CERN has also suspended collaboration with Russia.
As the border war seems poised to begin in the south of the country, Odesa residents are determined to save the statue of Armand Emmanuel du Plessis, a beloved French statesman in the city who was made Governor of Odesa in 1803. To protect the duke from potential air raids, they have

covered the statue from head to toe with sand bags

.
The UK's Ministry of Defence has also provided the following intelligence update: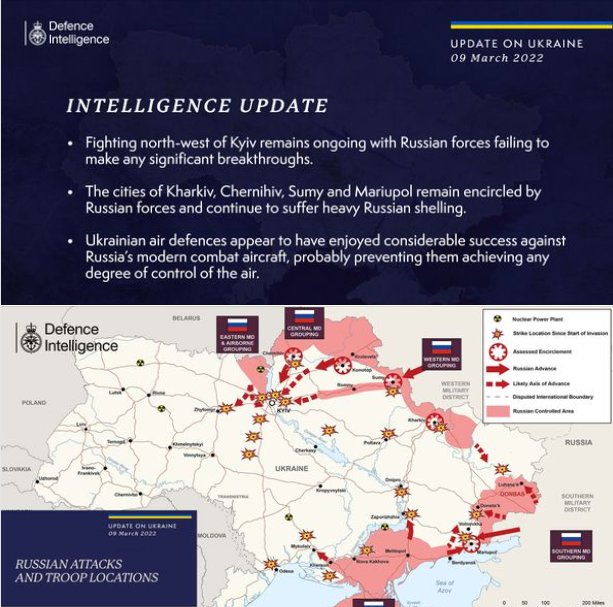 Why is Russia attacking Ukraine?

Putin claims that this "special operation" was needed to protect Ukraine's Russian-speaking population. But what language do people speak in Ukraine anyway? In actuality, while Russian is spoken by approximately a third of the Ukrainian people, it is Ukrainian that firmly prevails with ⅔ of the country being native speakers. Furthermore, since these latest attacks, many Russian speakers have switched exclusively to Ukrainian.

 

Stay tuned for more of the latest Ukraine news!