Starting a software project can be a puzzling process fraught with decisions outside one's area of expertise. While some organisations are blessed with IT departments that effectively handle all software development, the costs resulting from this utopian scenario render it an impossibility for the vast majority of businesses today.
Instead, companies are driven towards one of two main alternatives: outsourcing or hiring temporary staff, a process we like to call "outstaffing." Although both are means to the same end, there are specific benefits and caveats inherent to each model.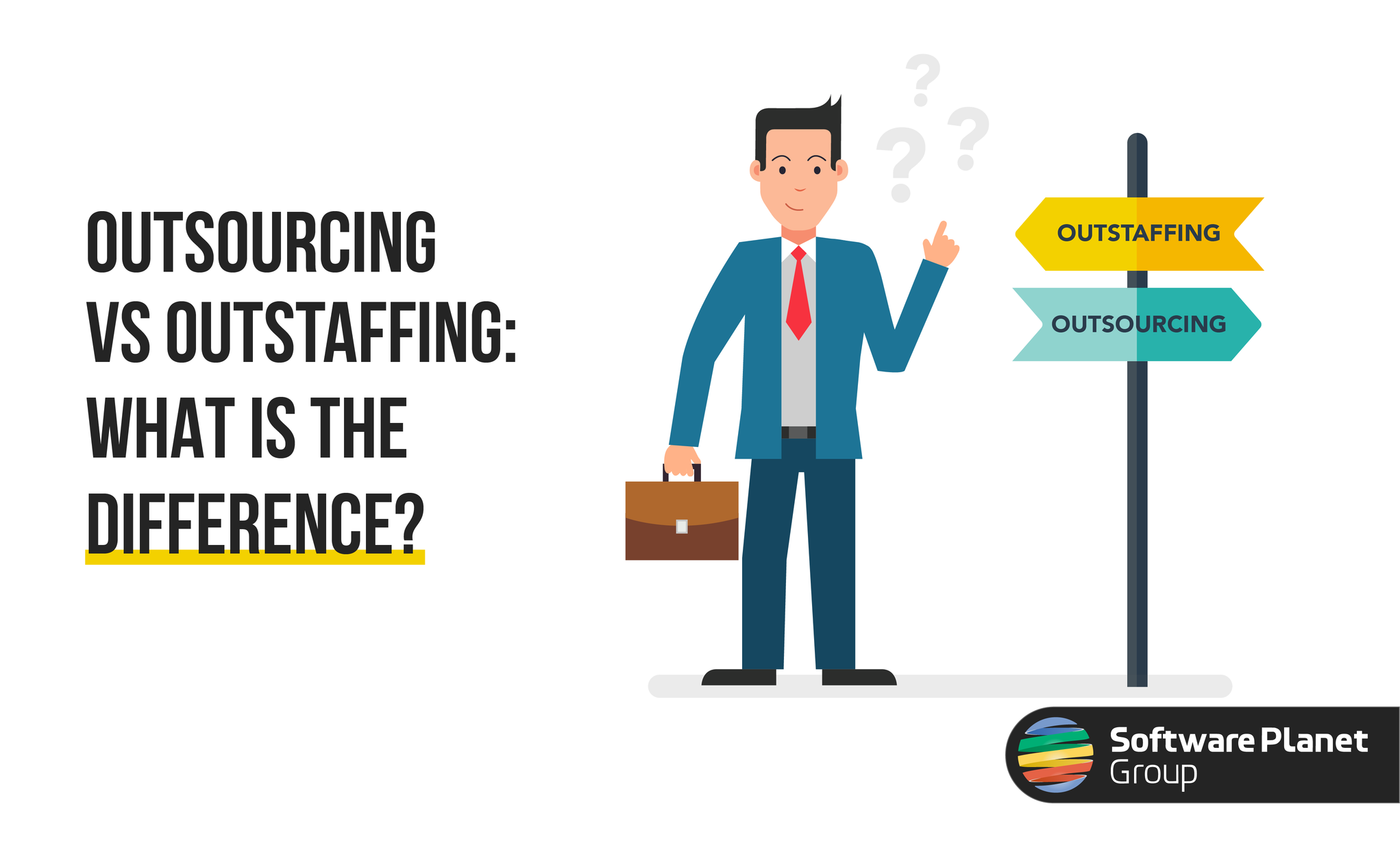 Outsourcing
For companies with no IT teams in place, outsourcing is the logical solution. Unfortunately, the term has been soiled in popular vernacular to denote the practice of abandoning local talent in favour of cheap foreign labour — but this is often not the case at all.
While it is true that outsourcing enables corporations to greatly expand their talent pool, the model simply refers to the entire development life cycle being handed over to a specialised company or organisation. This may be done at a national or international level.
As a result, non-technical businesses are able to focus on their core activities while trusting a dedicated software company to deliver on their behalf. This is Software Planet Group's preferred method to work with, as it allows us to ensure the quality of our projects at all stages of development.
Even though outsourcing does not allow companies to manage projects directly, it more than makes up for this by leaving ample room for discussion, cooperation and partnership. This is why it is especially important to be actively involved in every outsourced project and strive to maintain a steady flow of conversation.
In fact, the main drawbacks of outsourcing result from poor communication, as small but frequent misunderstandings can quickly steer a project away from its intended objectives.
Outstaffing
As with most things, however, outsourcing is not for everyone. Companies wishing to take control or intervene in the development process might be better paired with the outstaffing model instead.
With this approach, businesses may hire individual developers from external providers in order to temporarily extend their in-house teams for the duration of a project. As a company committed to maintaining a complete arsenal of software solutions, SPG also offer this mode of development.
The main benefit of outstaffing is companies are able to hire vetted software engineers without the added expenses of benefits, insurance, and the like. This, however, in no way indicates that outstaffing is a cheaper alternative to outsourcing.
Whenever problems arise in development, for instance, these must always be solved by the hiring company without the help of a full-bodied team of experts — a distressing situation that can quickly accrue costs of time and money. In addition, communication plays an even more vital role here, as project managers must be willing to give their remote workers clear and precise instructions, or risk derailing entire projects.
So to sum it all up
The choice is yours!
Labyrinthine as this decision may seem, in the end, it is the makeup of a company that best determines the road to be trodden. For businesses requiring a whole project to be completed, as in the majority of cases, it is usually more reasonable and convenient to outsource development. If, however, your company's project is already under way and your main concern is to simply bring in some additional help, then outstaffing may be the right path for you. In either case, SPG will always have a solid team of gifted experts at your service.
Digital Transformation
Management
Planning
Project Budgeting