With the extraordinary success of Uber, the ubiquitous mobile taxi app which launched in 2009 and now counts with the support of over 100 million users worldwide, demand for similar taxi services has skyrocketed in recent years. As a result, today, one of the commonest questions our company are asked is how much it would cost to build an Uber-like app.
Of course, every organisation will come with their own unique vision and business model, so these numbers invariably vary, but this does not mean that underlying parallels cannot be drawn in order to generate some helpful estimations.
And so, with this in mind, Software Planet would now like to share our thoughts on how much time such a project should take and the challenging choices you can expect to encounter should you steer your company towards this direction.
The Inherent Decisions of an Uber-Like App
First off, it is important to decide on a technical route to follow, as mobile applications may either be developed natively or in a cost-saving hybrid fashion:
The Native Option
The native method provides arguably the best performance and user experience, as all applications are blended seamlessly with their respective user interfaces. Nonetheless, in spite of these benefits, native app development is certainly not for everyone. In order to reach as many users as possible, for instance, companies are forced to build two applications instead of just one — one for iOS and another for Android. This, however, not only is bound to significantly drive up costs but also to slow down development.
The Hybrid Approach
Alternatively, companies may elect to build a hybrid application, which essentially involves taking advantage of some modern and very clever platforms such as Facebook's React Native. These are able to convert a single source of code — in the aforementioned case, JavaScript code — into native-like applications. Naturally, this can greatly simplify development, but it must be noted here that due to inherent UI differences, in either iOS or Android, your app will not be able to deliver a native-like experience. Nevertheless, for companies on a tighter budget, it is certainly a viable option.
How Long Will It Take to Build an App Like Uber?
Once the issue above has appropriately been settled, it is time to focus on another important factor. You see, a major misconception regarding these projects is that businesses only have to deal with a single mobile application. Yet in reality, Uber's system consists of three fairly distinct components: an app for customers, an app for drivers and an administrative backend for system managers.
Each part of the system will be equally complex and may vary significantly on the matter of user stories (or features). On average, however, the customer app should take around 1,147 hours to develop, the driver application totals roughly 280 hours of development and the backend for administrators is expected to be developed in approximately 287 hours.
For further clarification on how this translates into actual costs, the table below provides additional information: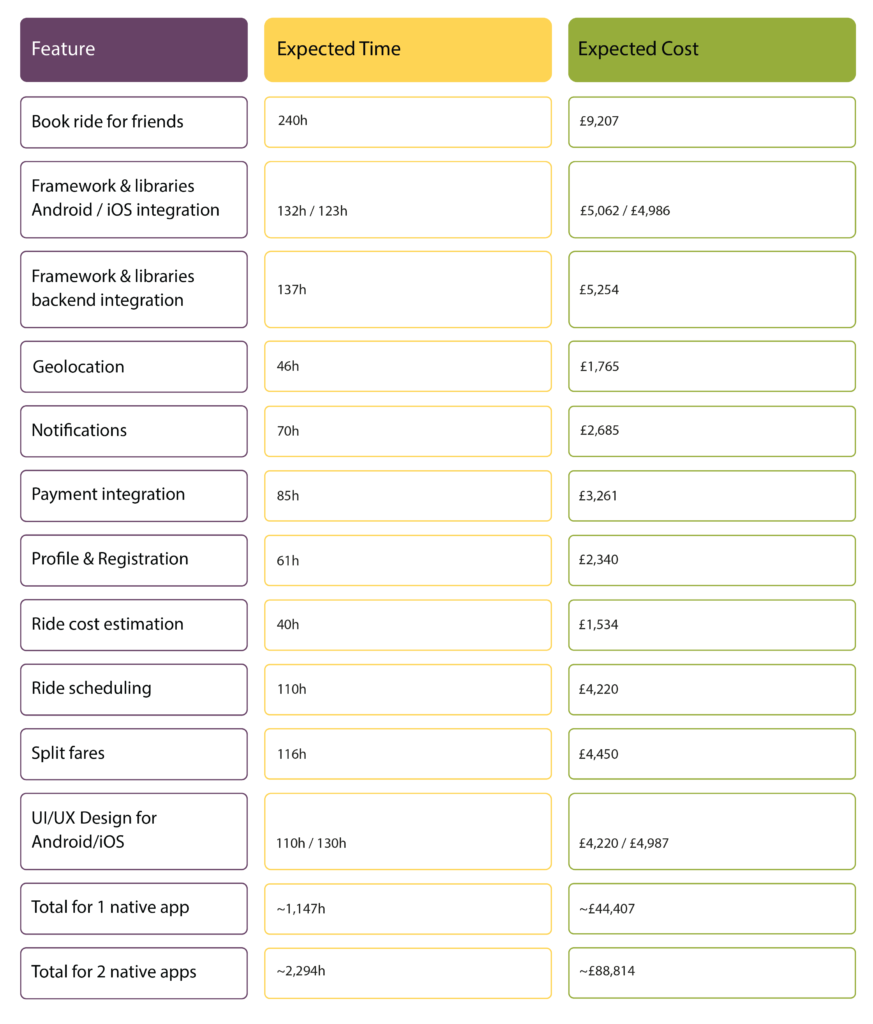 Remember that the admin panel comes with additional features and expenses: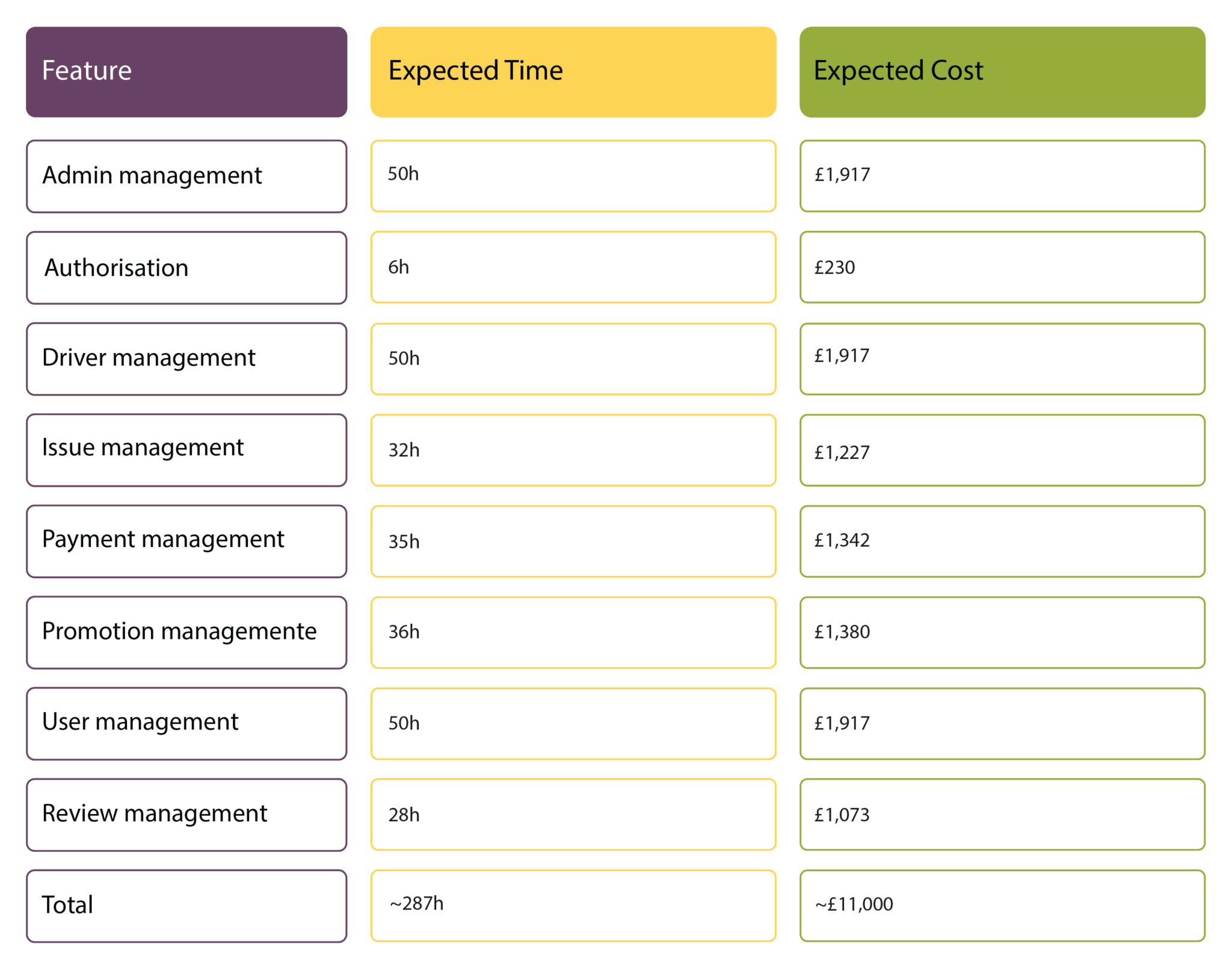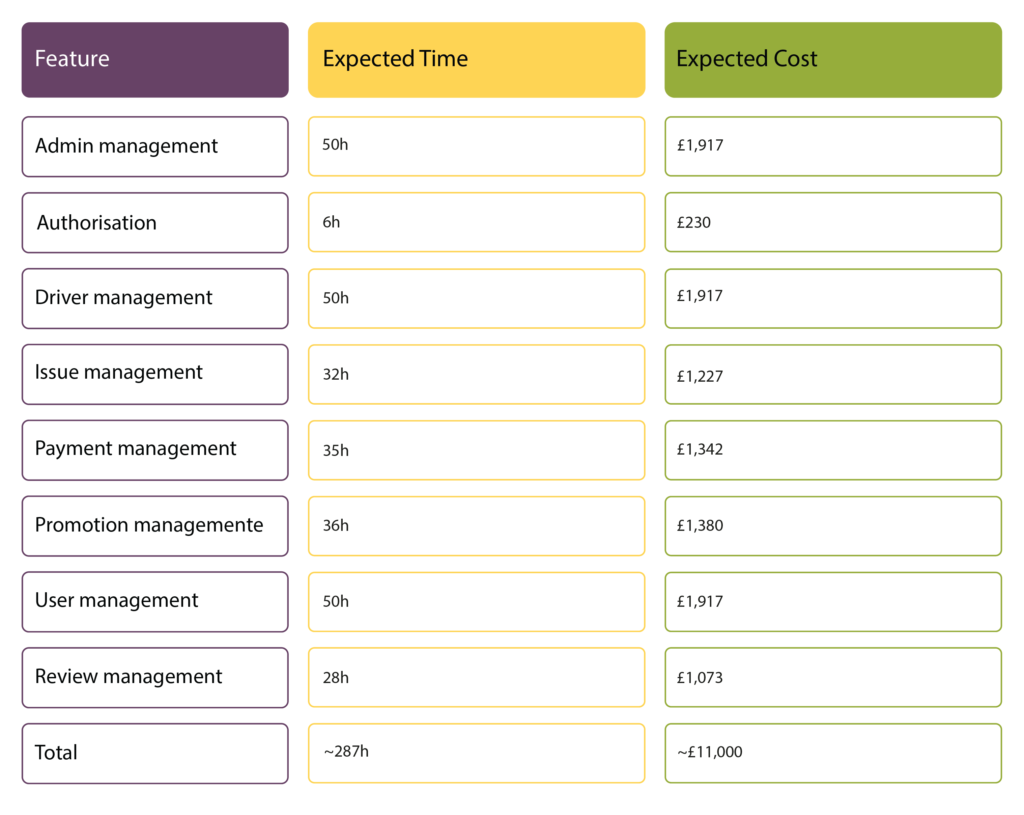 Choose Wisely
While Uber's success is certainly incontrovertible, unfortunately, many software companies today do not seem to be entirely aware of the multilayered nature of this complex undertaking — not to mention its significant challenges. For this reason, above all, SPG recommend making certain that the company you decide to work with are competent enough to circumvent potential issues.
On that note, by the way, Software Planet believe that your company's best bet is to initiate this project as a simple MVP. Not only will this allow you to launch your application as quickly as possible, as it strips the project down to its basic components, but rather than relying on uncertain business hunches, you can base your product on feedback and user demand.
Who knows? With any luck, you could end up creating the next major Uber contender.
dev-costs
Mobile Applications
Startup Development
Web Applications